Construction Bid Proposal Template: Easy Bid Proposal Form Software
Beat your competition with FormDocs Construction Proposal Software!
FormDocs Construction Bid Proposal Software helps you win more construction job bids, more quickly, and with a more professional image.
Easily create a professional-looking construction proposal template, customized with your company information and logo. Fill-in on-screen with a full-size bid proposal form that looks exactly the same as it will when printed. Filled-in bid proposals are organized and tracked so you can quickly find any one in seconds. Completed proposal forms and an optional cover letter can be printed for insertion into a double-window envelope for postal mailing, or they can be e-mailed to your customers as a PDF document. And when the job is done, automatically generate a job billing invoice form with the click of a button.
It's simple and easy to use! Plus, unlike other bid proposal writing software, FormDocs Contractor Proposal Application has no monthly fees, and an affordable, one-time license cost of only $99.95!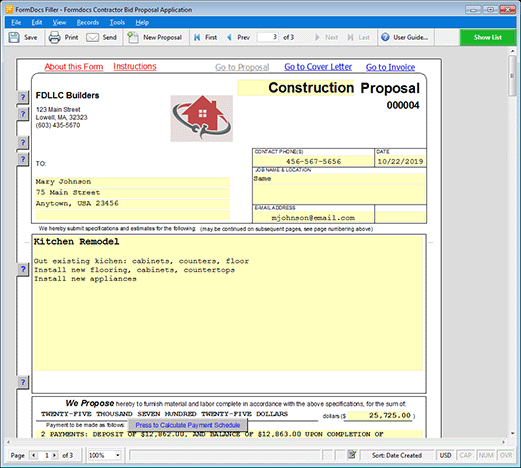 The FormDocs Construction Bid Proposal Application includes all these great features:
Create a custom, professional-looking Bid Proposal Template for your construction industry: Roofing Proposal, Plumbing Proposal, Carpentry Proposal, Electrical Proposal, Landscape Proposal, Flooring Proposal, HVAC Proposal, etc.

Fill-in an on-screen, full-size Construction Bid Proposal Template that looks exactly as it will when printed

Customize your Bid Proposal form template with your company information and logo

Enter unlimited lines of custom formatted text to describe your products or services

Customize your own Terms & Conditions

Customize an optional Debt Collection clause

Customize an optional Consumer Rights clause

Automatically create an optional personalized cover letter

Automatically generate an optional job billing Invoice Form from a Bid Proposal, also customized with your company information and logo

Automatically spell-out dollar amounts

Save and organize your Bid Proposals in a simple-to-use, zero-administration database, where you can locate any of your Proposals in seconds

Show a list of your Bid Proposal forms ordered by customer name, date, total amount, etc.

Completed Bid Proposal Forms can be printed and postal mailed or e-mailed directly as PDF

Affordable one-time license cost; no monthly fees.
Sample Construction Proposal Forms created using FormDocs Construction Bid Proposal Application
FormDocs Construction Bid Proposal Software offers unmatched features and value among small-business proposal management software. We think it is the best choice when it comes to easily creating contractor bid proposals, but don't just take our word for it, download it now and put it to use to create and submit unlimited bid proposals, risk-free for 30 days, no credit card required!